Publishing the report to the web is a process of sharing the report through a web link. You can share the report details using web link. This link can be open on any browser without log in power BI services. It can be created using power Bi services. It cannot be shared by Power Bi desktop. It is the most important step of Power BI.
Before going ahead – let's have a look at the below-mentioned pointers.
Step 1
Firstly, You need a data table and import the file into power BI services or desktop. You create a visual report on desktop version according to client requirements. Now you can publish this report on power BI services and it can be published to the web also. If any user is unable to log in on Power BI services and Power BI desktop, he can see the report from the link on browser. You get only one link and open on a web browser to see the report details.
We create any type of report and dashboard in Power BI desktop if you publish on the web or create a link. Using this link you can see a report anywhere. We can create a direct report on Power Bi service also. If we create a report on Power Bi desktop then we would publish on power BI services, after that this report can be published to the web. This report can be edited on services according to the requirement. If we need to change in a dataset, the dataset cannot be changed.
Step 2
When you create a report in Power BI desktop and publish it to Power Bi services, this report can be published to the web using Power Bi services.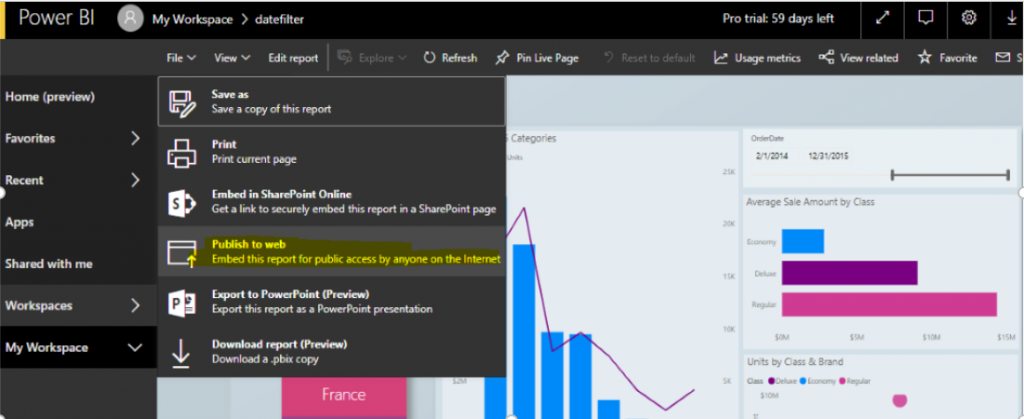 You have a report file in services then click on the file and click on the web to publish option. It can embed this report for public access by anyone on the internet. After click on 'publish to web' then you get the embed code window. You can change the report size using this window and get the link you can send in an email. You can also get HTML code which you can paste into your website.
Step 3
When you create embed code, Power Bi services another dialog, you are about to share your report with anyone on the internet.
You represent a dialog box in Power BI with two links:
A report link you can share on the email, which shows the report as a webpage.
Get HTML code, Using HTML code you can embed the report directly into a webpage.
Using from HTML link, You can select from predefined sizes for this embedded report, or you can update the iframe code yourself and customize the size.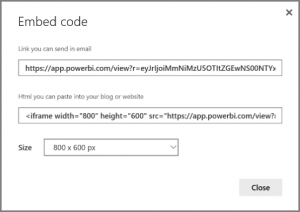 You can interact with that browser if you were viewing this visualization report in Power BI services. The following images show a Publish to a web page when its link was copied directly from that dialog into a browser.
Step 4
You can copy a link from an embed code window and paste on the browser. You can see the report on the web link without login on Power BI. You can see hover also on this report when you move a cursor on any visual report then see the hover and get the particular detail of data table. You can filter also on click on any visual report. You can apply a visual level filter in this link report. It is a fully understandable report on another browser.
Link: https://app.powerbi.com/view?r=eyJrIjoiOWUyOWY5NjQtODQ2MS00ZDBjLTg2OGItMTI4ODg1YWU0YTA0IiwidCI6IjRhOTJhYzcyLTM1ZmQtNDdkZS05MDk3LTc3MTIxMzk0ZGI0YiJ9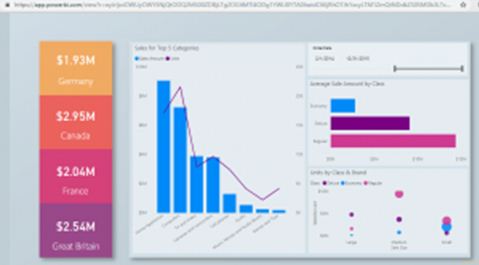 If you want to delete this embed code. It can possible from manage embed code in Power BI services setting.
Step 5
If we click on the setting of the report then click on the manage embed code. For reference you can see below screenshot: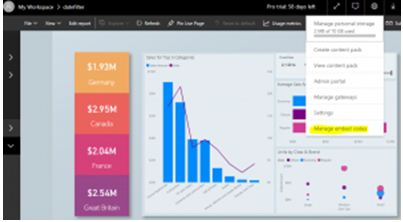 When you click on manage embed codes then you get the list of publications to web report details. It has associated report name, status, Date created. If you click on the right side three points. Show a message box and get the two tab-like get the code and delete. From using get the code you can get the code of report link and use delete you can delete this report link. After deleting this associated report you cannot rollback this report. For reference you can see in below screenshot:

Conclusion:
In this article, I cover the various steps of publishing to web report. It is easy to understand and easy to implement. You can establish a report into a web link and this link can open on the web browser. You can share your report easily if you create a web link report. This link can share any email or message box. If you do not have Power BI account and Power Bi setup you can access this report using web link. This process can complete using publish to the web on power BI services. You can manage the set of web link also. We can show the HTML code and can delete the link from manage embed code. This was the overall process of publishing to the web. If have you any question please write down the comment box. Thanks.