Android 5.0 and Google Nexus 2
Google is rumored to announce Android 5.0 Key Lime Pie by March 2013. The Android version is not confirmed i.e it maybe 4.2 instead of 5.0 but the codename 'Key Lime Pie' is pretty much final. Google is also rumored to be showcasing this new OS on the Google Nexus 2 which would be developed by Samsung. Samsung Galaxy S4 is also rumored to be pre-installed with 'Key Lime Pie'.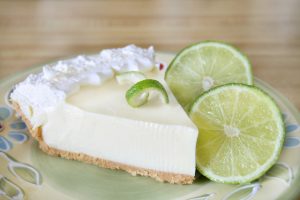 Key Lime Pie
Update: The new Android version will have these major features:
Customization Center – The Android Customisation Center is expected to be a solution to deal with manufacturer customisations
Nexus Program –  The new Nexus program has Google dictating certain hardware requirements for devices wishing to be Nexus-certified
Project Roadrunner – Project Roadrunner will take care of the battery life along with Project Butter(UI Smoothness)
Improved Google Now – The improved Google Now is rumored to be able to reply to phone FAQs like how can I activate Bluetooth, or How to purchase an application?
Improved Video Player – The stock video player is rumored to undergo a complete overhaul.

Previous Android Versions
Android 1.0
Android 1.1
Android 1.5    –    (C)upcake
Android 1.6    –    (D)onut
Android 2.0/2.1 – (E)clair
Android 2.2x   –   (F)royo
Android 2.3x   –   (G)ingerbread
Android 3x      –   (H)oneycomb
Android 4.0x   –   (I)ce Cream Sandwich
Android 4.1x   –   (J)elly Bean
2 Low Budget Jelly Bean Tablets
Two new low budget tablets running Android 4.1 Jelly Bean has been launched by WickedLeak in India namely Wammy Desire, and Wammy Athena. Here's the comparison between the 2.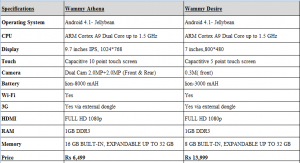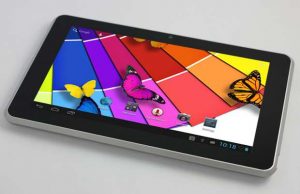 Waamy Desire
More From Samsung
Samsung is also rumored to unveil Galaxy S3 Mini this October. The Samsung Galaxy S III Mini is expected to feature a 4-inch WVGA (480×800 pixels) Super AMOLED display, a 5MP camera and a dual-core processor. Samsung Galaxy S2 Plus is also expected to be unveiled this October, which is likely to feature a 4.5-inch WVGA AMOLED display, a 8-megapixel camera, a 1.5GHz dual-core processor, 16GB of internal memory and 1GB of RAM.
Meanwhile at Other Giants
> Apple retail stores in India
According to reports, Apple is planning to open it's retail shops in India. The only reason for which Apple may hold back is because the current Indian FDI norms which makes it compulsory for all the foreign retailers to source 30 percent of their product sales from the local companies. That could be a major problem, as the company's products are mainly sourced from Chinese suppliers.
> Microsoft Surface Smartphone
According to a source, Microsoft is working on a Windows Phone 8 smartphone under the brand name 'Surface'. It's been in works since the last four months and is expected to be launched in first-half of 2013. The public is already overwhelmed by the Surface Tablet and maybe this Surface Smartphone will allow Microsoft to go Apple's way i.e a device that's perfect for their own OS.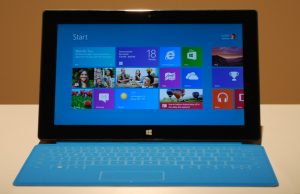 Surface Tablet
Update: Google is releasing a new Android version 4.2, but it will retain it's codename 'JellyBean'