Alto an webmail client by AOL was unveiled on 18th Oct. AOL only showed few glimpses of the service and allowed you to request an invite from it's home page.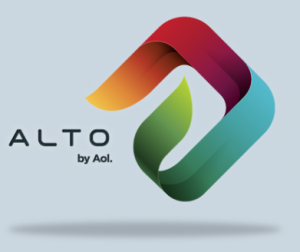 Today, after more than a month, I received an email from AOL revealing that Alto is now live and ready to use(although still a beta version). In no time, I signed into Alto to experience what it says Organizing mails in a new way. I was welcomed with a intro video and a few options like connecting with Facebook. Immediately after which I was shown my Inbox in the left and stacks in the right.
Interface
The interface seemed quite similar to Outlook.com but gave feeling more of native app running in your OS. The menu docked to left-most side seemed a browser plug-in rather than the functions relating to Alto. Another major difference was that Alto offers a Tabbed interface much like Yahoo does these days.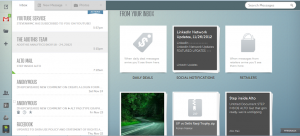 Home Screen
By default the Emails are shown in the list format. When clicked on a message the Reading Pane is shown in the right which hides the Stacks window. I don't think you can change this layout as we could in outlook.com. Like GMail, Alto also provides you with 3 display settings namely: Relaxed, Comfortable and Compact.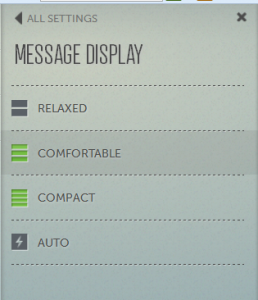 Message Display Settings
The quick actions attached to each list item (i.e mail) is 'Delete', 'Snooze' and 'Star'. To access other options, you could either open the mail or you can checkmark the mail to get a context menu similar to Windows 8. There's also an Actions button placed above all mails, which opens the same context menu.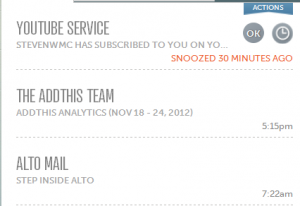 Reminder for a Snoozed Message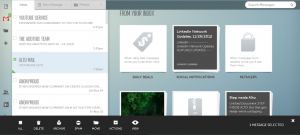 Context Menu like Windows 8
Stacks
You can think of stacks as 'grouping of mails on the basis of sender or content'. For example, you can see all photos from your emails at one single place. It goes same with the attachments. Other stacks include Social Notifications which groups all mails coming from Social Sites like Facebook, LinkedIn an Twitter. Of course, you can manually add more addresses to that stack. Another stack 'Starred' grouped all the mails that you have starred in Alto. Alto also allows you create a custom stack to group messages from a particular sender or senders. To do this, you just need to drag & drop a message to 'Create a stack' icon You can drop as many messages as you like to increase the senders in that stack.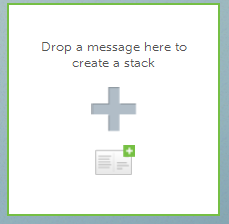 Creating a new Stack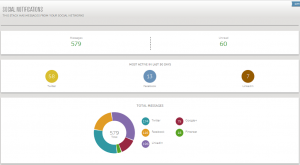 Stats shown in Social Notification stack
Composing Mail
Just click the 'New Message' icon on the top-left corner to send an email. By default it pops-up a small window allowing you to send a quick mail. To get the full editor, you have to click on 'Open Full Compose' icon placed in the title bar of that window. The full compose window gives you the 3 common options Send, Save Draft and Discard placed at top. The window also provides a Text Editor that seems too old fashioned for such a modern web app. Another disappointing thing was that it doesn't let you know the progress done while attaching a file, it just shows a spinning circle in the title bar. I also faced a problem with auto-saving of mail as Draft. However, final sending seemed faster at least faster than Gmail.
As I said before Alto has Tabbed interface that means the compose window resides in a Tab, which let's you browse other emails while compose window still opened in other tab. Moreover, you can open multiple compose windows.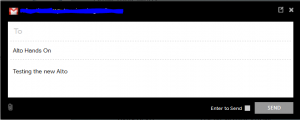 Quick Send Window

The Native Touch
Alto allows performing functions in a native way. For example, you can right-click a message to view more options for that message. The same functionality is also present in outlook.com. In Alto, you can use CTRL to multi-select messages and even Shift for that purpose. Alto also supports keyboard shortcuts like CTRL + S for saving a draft, ESC to hide a window/menu, CTRL + Enter to send a message etc.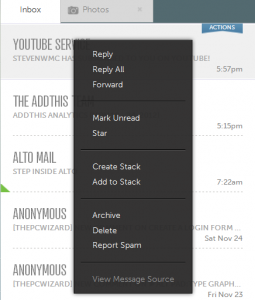 Right-Click Menu
Summary
Alto seems a nice experience but at this moment, it's not at all a serious competitor. Beta version faced some issues while synchronizing with my Gmail account. Moreover, Alto doesn't seem to have any thing too remarkable to offer. It has just tried to bring together the best feature provided in other clients. Design of outlook.com, interface from Yahoo and functionality of Gmail & outlook.com. Maybe later it grows to a new level and stacks may prove to be a great feature to have.
Note: Alto only supports Gmail, Yahoo, iCloud and AOL accounts.
You can visit www.altomail.com/ to experience it.